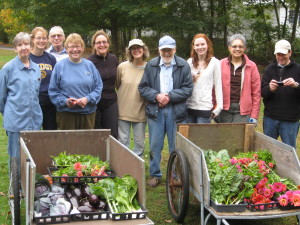 Volunteers 9/28th: Follen, Hancock, Islamic Center, Lexington Catholic Community, First Parish and First Baptist
Volunteers 10/5th: Redeemer, Lex Catholic Community, Lex Methodist, Hancock and Temple Isaiah
Crops harvested: Swiss chard, eggplant, tomatoes, green beans, cabbage, kale, broccoli, parsley, dill, mint, zucchini, pumpkins, butternut squash, cabbage, peppers
It's now easier to see that the season is winding down. Lots of different crops are still getting harvested each week, but there are less of them. But between the pictures of the loaded carts and list of what is being picked and delivered, you can still see the diversity and abundance…just not as much. Nothing like those July and August Saturdays of 100+ pound harvests to set unsustainable expectations!
As there is time after the Saturday harvesting, we are starting to slowly put the garden to bed—poles have been taken down in the blueberry patch and pine needles readied for spreading there; nutrient-rich soil has been dug out of the compost bins and added to the strawberry beds; and winter rye seed has been spread where the squashes and bok choy had recently grown (the winter rye will be plowed over come early next spring to add nutrients back to the soil).
Other news from the garden:
• Saturday hours have shifted later so volunteers now work 8:30am to 10am
• Last volunteer day at the garden will be Tues, Oct 29th
• Unfortunately the bee hive visiting behind the barn was lost sometime in the last few weeks. The bees had gotten less active and then just died off. Could it be the wax moth? We hope the hive owner will try again next spring. We've always thought that the bees were one of the reasons that the garden's productivity took off in the past 2 years!