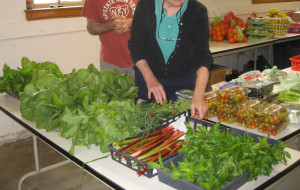 I got to chat with Carolyn Wortman yesterday at the Lexington Food Pantry.  As you likely know, she is the longtime volunteer that coordinates the Pantry.  Since all the work we do at the Interfaith Garden ends up at the Pantry, I thought you would be interested in what's happening there. Included in this post is a photo from our delivery on June 6 from the Interfaith Garden to the Food Pantry.
Yesterday, the Pantry served 74 clients, representing households of one to seven people.  Another recent Saturday 80 clients shopped at the Pantry.  Last week, 3 new families from Lexington came for the first time.  The numbers keep creeping up.
As you may recall, they have temporarily relocated to the basement of St. Brigid's during the period that their regular space is under renovation.  The space is smaller but they have adjusted well to the new digs. One benefit is that the Pantry is borrowing basement space that wasn't being otherwise used, so all the tables, chairs and extra food set up doesn't have to be taken down every Sat to be set up again the following Friday.  This is a huge time and energy saving.
But due to the move and space constraints Carolyn had to pass on being the recipient of the annual Lexington US Postal Service Food drive that is co-coordinated by the postal carriers in May.  Instead, the Lexington Post Office arranged for the food to be donated to another Food bank.  Usually this event is the Pantry's largest food drive and contributes significantly to the Pantry's stock of staples.  In its absence this year, Carolyn's supplemental buying has increased a lot in order to keep ahead of demand and have supplies on hand.
Having the fresh produce start arriving from Giving Gardens, like ours, is very much appreciated. With the numbers I cited above, you can see again the scope of the need.   I was talking to another volunteer who said how she noticed that they have already started adding extra tables to accommodate the increase in produce arriving…and part of that is due to the fresh food we have been dropping off for the last few weeks ( the last few Saturdays over  20 pounds of produce was delivered.)  As the summer progresses,  there will be more and more tables needed!  Thanks to your efforts, you can take some credit for that.
Amy Swanson