Volunteers today from: First Parish, Chinese Bible Church of Greater Boston, Lexington Methodist, and the Lexington Catholic Community
Weather: lovely July morning– Sunny and 70 degrees.
The crew this morning had a lot to do since the Interfaith Garden was closed last Saturday for the 4th of July holiday. As you would expect, there was more of everything to pick. The final tally was about 77.5 lbs, bringing the total to 223.5 lbs. delivered to the Lexington Food Pantry so far this season.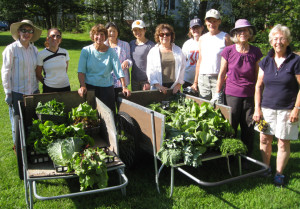 | | |
| --- | --- |
| | |
| Probably the last of the peas and oriental peapods were picked this morning. | After picking, came the sorting. Fat ones were peas, flatter ones were the oriental peapods. |
 
 
The produce always look so nice when it is laid out and packed for delivery. One reason is that when necessary, careful rinsing is done. Normally one wouldn't want to wash vegetables until right before using since it tends to shorten the shelf life. But with greens and vegetables that grow in the dirt, you often want to clean them up. The rule is to do it gently. Above on the left, the beets, radishes and arugula are being rinsed. On the right, the heads of lettuce are receiving a gentle shower. Today Jessie's mother gave a tip about how to harvest bok choy so as to minimize how much dirt adheres to the base of the plant. Pull up away from the soil and then cut off, instead of cutting off at ground level.
Carla explains the weighing process to Jessie. Afterwards, Jessie's mother keeps the pallets of picked vegetables moving forward to be weighed. After this step, the trays are moved into the delivery cart.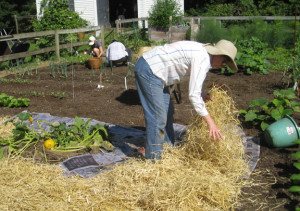 While one group wheeled the morning's bounty to the Pantry, the remaining volunteers went back to maintenance chores. Some were weeding. Others worked on adding weed suppression and moisture control via the old school-tried-and- true method of spreading wet newspapers out and then covering with a layer of straw.