Today's volunteers were from: Redeemer, Pilgrim, Hancock and First Baptist
The weather turned out OK after all. With rain up until 7:30am, we had wet feet, but that was all.
The harvest totaled 60 lbs, consisting of: arugula, basil, beans, bok choy, cilantro, dill, kale, leeks, lettuce, mint, oriental peas, parsley, peppers, raspberries, radishes, rhubarb, scallions, Swiss chard, tarragon and zucchini!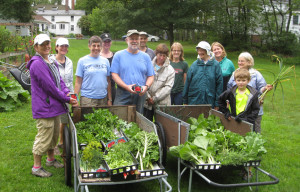 See those pops of red? The special treat today were about 1⁄2 dozen little boxes of raspberries that were included in the delivery to the Lexington Food Pantry. Winter moths may have decimated the blueberries, but the raspberries were just fine.
| | | |
| --- | --- | --- |
| | | |
| A basket of chard. Mom, take note–Peter wants to come back in August to see how much the garden will have changed. | Heather did an excellent job harvesting the lettuce! Very little cleaning was necessary. | Only the bigger bok choy was harvested, leaving more for next week. |
| | |
| --- | --- |
| | |
| Parsley was just one of the herbs that was picked…along with dill, cilantro, mint, tarragon and basil. | Lauren harvested several pounds of rhubarb to add to the car |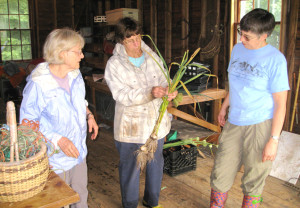 Quite a bit of garlic got of harvested this morning. You can see Betty pulling it out above and a full basket to the right. But it is not ready to be delivered. First it needs to be dried. At the right, Carla shows Maria and Heather what to do. First you grab about 3 stalks, staggering the stalks so the bulbs have plenty of air space around them. Then you tie the stalks together, usually doing it lower and again higher on the stalks. The bundles were then hung in the barn to dry and will go the Food Pantry later this season.
This is how you know the produce comes from a real garden, not from part of the industrial food complex…you see anomalies in the produce:
| | |
| --- | --- |
| | |
| When was the last time you saw leeks with curli-cues? | No, that is not a red potato. Carla thought it was a giant radish since it was pulled along with the rest of the normal-sized radishes and is the same color. But it also could have been a turnip that went AWOL. It was culled from the rest of the delivery since she feared it would be pretty bitter. |