Volunteers: from Redeemer, Grace Chapel, Hancock, St. Nicholas, First Parish, First Baptist and Lexington High School
Weather: cool and dry
Harvest: Lettuce, mint, tarragon, oregano, Bok choy, dill, broccoli rab, rhubarb and arugula
Tasks: Harvesting, weeding, planting carrots and beets in small garden, planting bok choy in seedling trays and LOTS of mulching.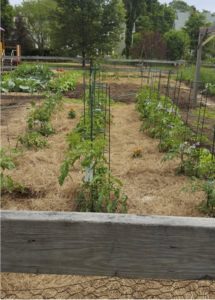 Isn't this one good-looking mulched garden? Carla advocates investing the time to mulch early in the growing season in order to avoid a lot of weeding later on, as well as achieving better moisture retention. This picture is the "after" picture…all accomplished on Saturday.
Here are the steps we followed to mulch:
First things first. You have to weed, weed, weed. Best to start with a clean bed before mulching.
Then you prep the bottommost layer–wet newspapers. It's an inexpensive, commonly found material. Consider it another way to recycle.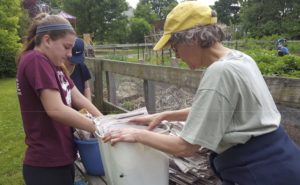 Janet, Amanda and Pauline are dunking newspaper in buckets of water to thoroughly wet them.
Next, Carla explains to the volunteers that they should put down about 6 layers of wet newsprint. That's about the size of a typical newspaper section nowadays.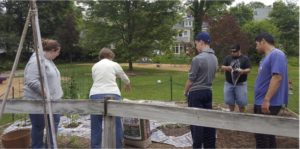 Between good overlapping and making sure the paper is really wet, you should avoid having them all blow away on those blustery days we have been experiencing lately.